For over 44 years, Team Technology has been Apple authorized sales. We strive to help our customers find the right solutions for their Apple needs by offering the highest level of integrity, ethics, technology services, and support.
Minnesota's Oldest Apple Reseller
Besides working on Mac's, we sell both new and used Macs. We carry a wide variety of accessory items for Mac's too. We have cables, cases, power adapters, keyboards, mice, backup drives, and more
.
Don't forget AppleCare +
Every new Mac comes with a one-year limited warranty and 90 days of telephone technical support. AppleCare + for Mac extends your coverage to three years from the original purchase date of your Mac.
Adds up to two incidents of accidental damage coverage, each subject to a service fee.
$99 for screen damage or external enclosure damage, $299 for other damage
Pre-Owned and Clearance
Updated:
October 18th, 2021
Portables
MacBook Pro 15-inch (Late 2013) - 2.3GHz Quad-Core i7 / 16GB RAM /500GB SSD $679


Desktops
Mac mini (2014) - 2.6GHz Dual-Core i5 / 8GB RAM / 1TB HD $300
Trade-ins Welcome
Trading in your computer not only helps the environment it also gives others access to technology. When you trade-in your old computer towards a new one we will securely format your hard drive and get it ready for the next owner.
The value of your computer is based on a number of factors: the age, processor speed, storage size, amount of RAM, and condition of the unit.
Bring your computer in to us and our technicians will evaluate it and tell you its value. You can trade in Mac desktop (2014 or newer) or Mac portables (2014 or newer).
If your computer is too old to be considered for trade-in we can migrate the data to a pre-owned or new computer. Purchase and migration costs apply.
We can recycle your old computer(s) and in most cases free of charge. Computers with a CRT will be charged $25 per unit.
See something you like?
Don't wait! Our supply of pre-owned
computers doesn't last long.
TEAM Technology is a locally owned and operated Apple Authorized Service Provider and Apple Authorized Reseller.
Join us each Saturday for an informative seminar.
macOS Basics - 1PM to 2PM
Basic introduction to macOS covers the finder, desktop, dock, as well as files, folders, and its ease of use. Also included is the importance of using Time Machine.
October 2nd, 16th, 30th
iPadOS Basics - 1PM to 2PM
Basic introduction to iPadOS covers customizing your iPad, adding, arranging, and removing apps, using the virtual keyboard, and more.
October 9th, 23rd
Apple TV - 3PM to 4PM
Learn about Apple TV 4K features and how to stream content from iPad or iPhone through Apple Airplay.
October 9th
Password Management - 3PM to 4PM
Learn about password Do's and Don'ts and how the mSecure app can keep your passwords safe and secure.
October 23rd
Mac Backup Solutions - 3PM to 4PM
Learn about different ways to backup your important data on your Mac using Time Machine and iCloud.
October 16th
Internet Safety - 3PM to 4PM
Anyone interested in learning how to be safe online and how to recognize potential scams should attend.
October 30th
Services
Mac Repair
Team Technology has been servicing Apple products for more than 44 years.
When you need your Mac serviced, the check-in process is simple. Drop off your Mac so we can diagnose the problem. The labor cost for diagnostics is $45 plus tax. Once we have completed the diagnostics, we will call you with an estimate for your approval.

Turnaround Time
At Team Technology you get personalized service. Service is performed on a first come first served basis. No appointment is necessary, just walk in! Turnaround time is generally 3 to 5 business days for most repairs.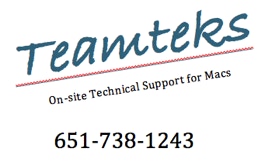 On-site Services
On-site support requests are scheduled on a first come first served basis. Our technician will travel to your home or office to solve your computer problems. Rates for on-site repairs is $225 for the first hour (one-hour minimum). Additional hours are billed in 15-minute increments (plus parts).
There may be times when it is better to bring your computer to us especially when data transfer or hardware diagnostic are involved.
Upgrades
Keep your old Mac running like new with a memory upgrade and a solid-state drive. Upgrading your Macs operating system can be beneficial too.
Todays operating systems can be very demanding on Macintosh resources. You can improve the performance of your computer just by adding more memory.

Data Recovery
Depending on the severity of the hard drive damage we can attempt data recovery. Each case is different and there are no guarantees that everything can be recovered.
For nonfunctional drives, there is still a chance of some data recovery using a company like DriveSavers or Ontrack® data recovery services. Click images below to start the data recovery process.
"Always remember to backup your data."
Contact
We would be happy to help you