Attention:
TEAM Technology will be relocating.
Dave and John are reorganizing as a mobile based business to continue to serve you. It has been a pleasure and an honor to serve everyone from the luxury of a retail store. We hope to continue to be your choice for products and information for years to come. Our phone number, emails, and website will be the same. Please watch the web site for further information. We will be providing the same quality of support, training, and consultation TEAM Technology has been known for over the last 44 years. Please reach out to us for an appointment.
During the month of May, Dave and John will being doing service by appointment only. Please call 651-738-1243 or email: team@teamteks.com to request an appointment. Thank You
Pre-Owned and Clearance
Updated:
May 4th, 2022
Desktops
(3) iMac 21.5" Late-2012 - 2.7GHz Quad-Core i5 / 8GB RAM / 1TB HD $400
iMac 27" (2013) 3.5GHz Quad Core i7 / 8GB RAM / 1.03TB Fusion Drive $699
iMac 27" (2013) 3.5GHz Quad Core i7 / 32GB RAM / 2 TB Fusion Drive $899


Clearance: (NEW)
MacbookPro 13" 2020 - 2.0GHz-Quad-Core i5 / 16GB RAM / 512GB SSD $1499
See something you like?
Don't wait! Our supply of pre-owned
computers doesn't last long.
TEAM Technology is a locally owned and operated with over 44 years of Apple service and support.
Services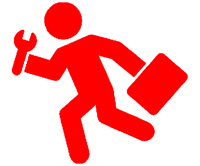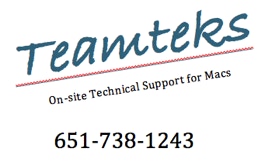 Upgrades
Keep your old Mac running like new with a memory upgrade and a solid-state drive. Upgrading your Macs operating system can be beneficial too.
Todays operating systems can be very demanding on Macintosh resources. You can improve the performance of your computer just by adding more memory.
On-site Services
On-site support requests are scheduled on a first come first served basis. Our technician will travel to your home or office to solve your computer problems. Rates for on-site repairs is $225 for the first hour (one-hour minimum). Additional hours are billed in 15-minute increments (plus parts).
Mac Repair
Team Technology has been servicing Apple products for more than 44 years.
When you need your Mac serviced, the check-in process is simple. Drop off your Mac so we can diagnose the problem. The labor cost for diagnostics is $45 plus tax. Once we have completed the diagnostics, we will call you with an estimate for your approval.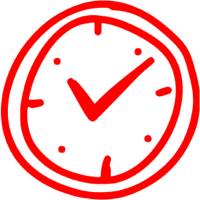 Turnaround Time
At Team Technology you get personalized service. Service is performed on a first come first served basis. No appointment is necessary, just walk in! Turnaround time is generally 3 to 5 business days for most repairs.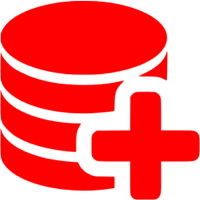 Data Recovery
Depending on the severity of the hard drive damage we can attempt data recovery. Each case is different and there are no guarantees that everything can be recovered.
For nonfunctional drives, there is still a chance of some data recovery using a company like DriveSavers or Ontrack® data recovery services. Click images below to start the data recovery process.
"Always remember to backup your data."
Minnesota's Oldest Apple Reseller
Besides working on Mac's, we sell both new and used Macs. We carry a wide variety of accessory items for Mac's too. We have cables, cases, power adapters, keyboards, mice, backup drives, and more.
Contact
We would be happy to help you
Questions or Seminar Suggestions:
How did you hear about us?